Exhibition Curation - with over twenty five years experience in the museum and gallery sector Blue Sky View has curated a range of social history and visual art exhibitions some of which have toured throughout the country and presented at regional, state and national venues. The following highlight past and current exhibitions.
Co-Curators: John Waldron & Dr Lisa Chandler
National tour: May 2014 - June 2017
East Coast Encounter includes the work of Australian Indigenous and non-Indigenous artists and writers to re-envisage the encounter by James Cook and his crew with Aboriginal people in 1770. Cook's 1770 voyage has become central to narratives of Australian history and precipitated European colonisation of the country. Consequently there are aspects of this seminal journey that continue to resonate powerfully today. Instead of conveying a literal history or a primarily Eurocentric world view, East Coast Encounter imaginatively presents this shared story from diverse perspectives. It also brings historical events into the present by incorporating contributors' reflections on their relevance today. By enabling this significant encounter to be expressed in multiple ways and from varied points of view, East Coast Encounter seeks to promote cultural dialogue and reconciliatory understanding between Indigenous and non-Indigenous Australians.
Image: Gail Mabo, Constellation 2014, Monoprint on paper | 59.5 x 89.5 cm, Courtesy of Monsoon Press for Umbrella Studio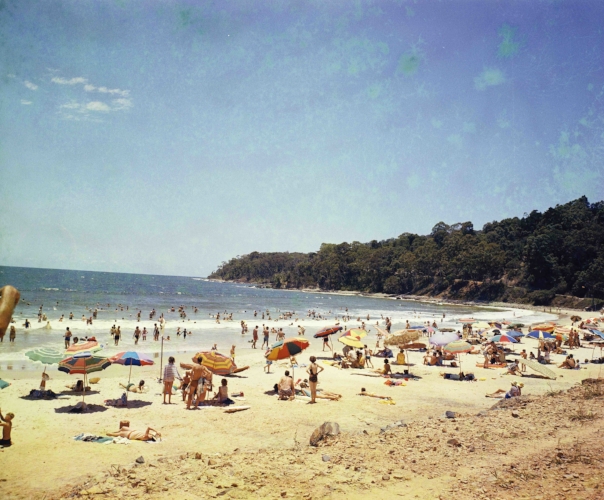 Curator: John Waldron
Noosa Regional Gallery: 15 June - 23 July 2017
What's up Sunshine? is a pictorial portrait of Noosa and the region over the last 50 years. Presenting over 400 photographs and memorabilia the exhibition reveals the many stories of the people and events that have shaped the culture and character of the region.
The exhibition features photographs and video from by leading local and Queensland artists including Glen O'Malley, Mal Sutherland, Judy Barrass, Emma Freeman, Brian Rogers, Bianca Beetson, James Muller, Larisa Salton, Lin Martin, Raoul Slater, Blair McNamara and Andy Staley.
It also features many images from the Picture Noosa collection by press photographers Bill Griffiths and Ian Murray.
Image: Noosa Main Beach, Photograph by Griffiths Studios, Courtesy Noosa Library Service - Picture Noosa, Reference Number: T1004670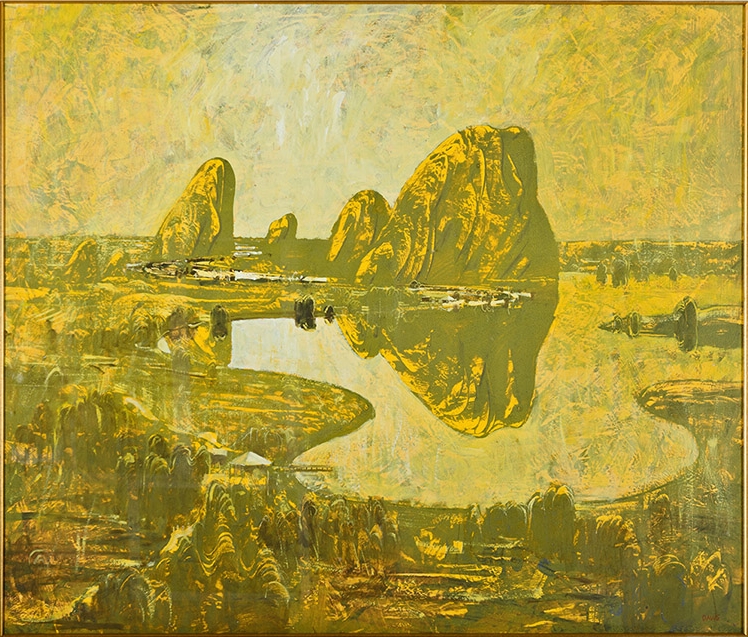 Curator: John Waldron
Bribie Island Seaside Museum: 3 March - 14 May 2017
In 2006, ten of the Glass House Mountains peaks were included in the National Heritage List.
For more than 40,000 years these mountains have never been far from the gaze of local people. From across the Pumicestone Passage on Bribie Island or the mainland of the Morton Bay region the mountains stand in jagged relief along the horizon, offering an ever changing panorama.
This exhibition commemorates the ten year anniversary of the heritage listing through historic and contemporary visual art, photographs, documents and oral histories.
Image: Lawrence Daws, Owl Creek II 1982, Oil on Board, USC Collection
Three Foot Six, The Sunlander
Curator: John Waldron
Queensland tour: August 2014 - June 2017
Three Foot Six, The Sunlander is a collection of photographs and paintings by prominent Queensland artists, photographer Glen O'Malley and painter Ian Smith, that capture Queensland's unique rail culture.
The photographs and paintings are the result of several excursions and many were captured on the Sunshine route. In 2003, O'Malley drove from Cairns to Brisbane photographing trains along the way. He returned, travelling with Smith on the Sunlander.
This exhibition records Queensland rail heritage and captures the high and low energy and excitement associated with trains and rail travel.
Image: Glen O'Malley, Departure of maiden run of tilt train, 'City of Cairns', Cairns station, 15 June 2003, Artist's collection
Curator: John Waldron
Queensland tour: 2013 - 2015
Australian South Sea Islanders are the descendants of people brought here between 1863 and 1904 to work the cotton and sugar plantations industries. They arrived from eighty Pacific islands.
These people were brought to Australia as a source of cheap labour. Many were tricked into coming, others were kidnapped or "blackbirded".
In 1994 the Commonwealth Government formally recognised Australian South Sea Islander (ASSI) people as a distinct cultural community. Twenty years on this exhibition brings together ASSI artists and others to creatively explore the hidden and difficult stories associated with ASSI heritage; to promote their unique culture; continued ties with their ancestral islands; and search for family and identity.
The exhibition presents work across a range of media including painting, photography, traditional cultural craft, sound and video. It also includes material from private and public collections including the State Library of Queensland.
Image: Jasmine Togo-Brisby Bitter Sweet, 2014-2015, Sugar and epoxy resin, Artist Collection, Photograph by John Waldron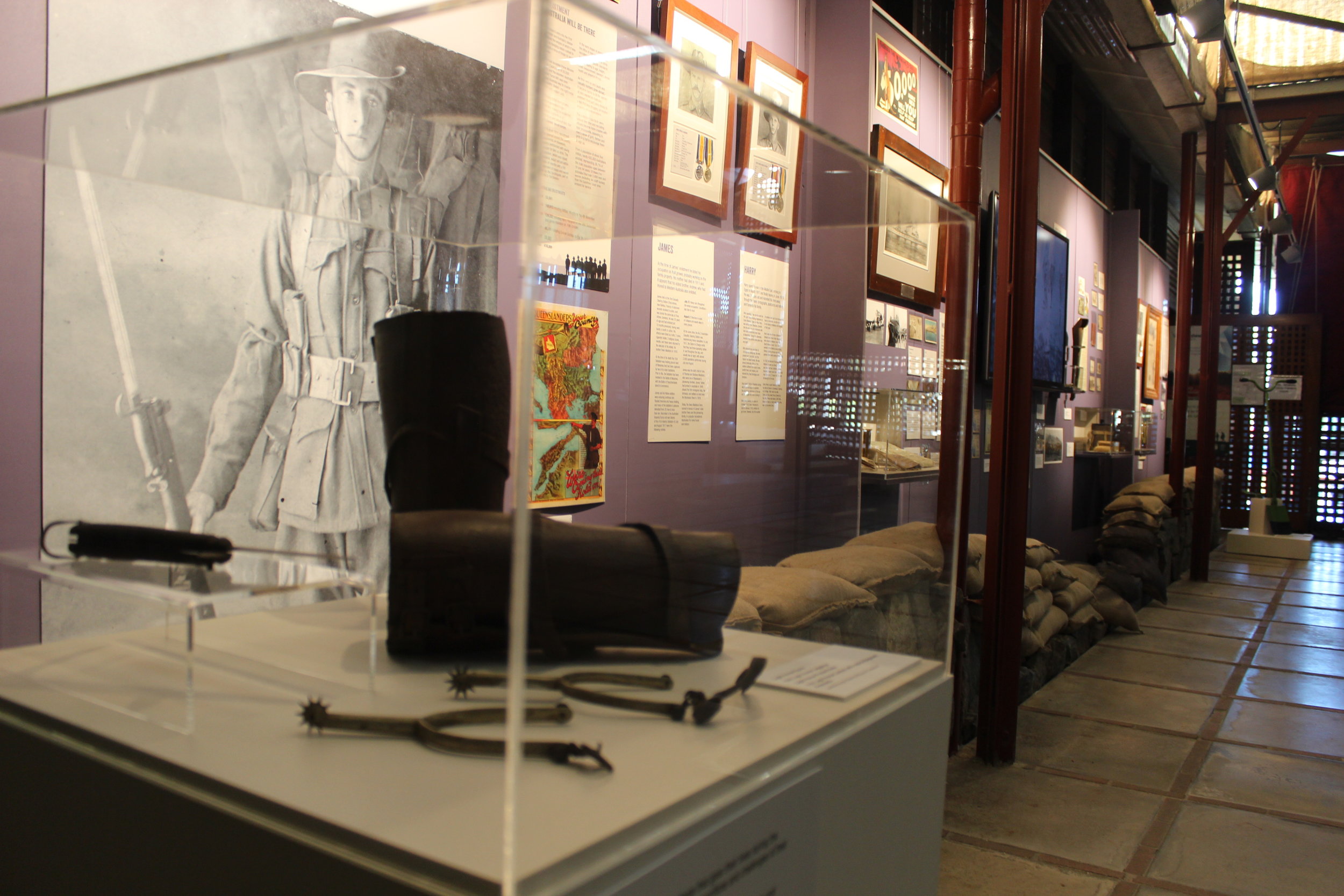 Curator: John Waldron
Landsborough Museum: March 2015 - June 2017
Far From This Land is a research and exhibition project that commemorates the First World War experience for the Sunshine Coast.
With support from the Sunshine Coast Council and Queensland Anzac Centenary grants program Landsborough Museum volunteers worked with Blue Sky View to research the museum's First World War collection, connect and interview associated families, and design and build an exhibition that explores the region's First World War history.
As the lead public exhibition initiative for the commemoration on the Sunshine Coast the project aims to help students, residents and visitors understand the experiences of local servicemen and women and their families during and after the war.
The exhibition wove together the stories of four service men and women using letters, documents, photographs, artefacts and family histories.
Image: Far Fom This Land installation, 2017 Photograph by John Waldron