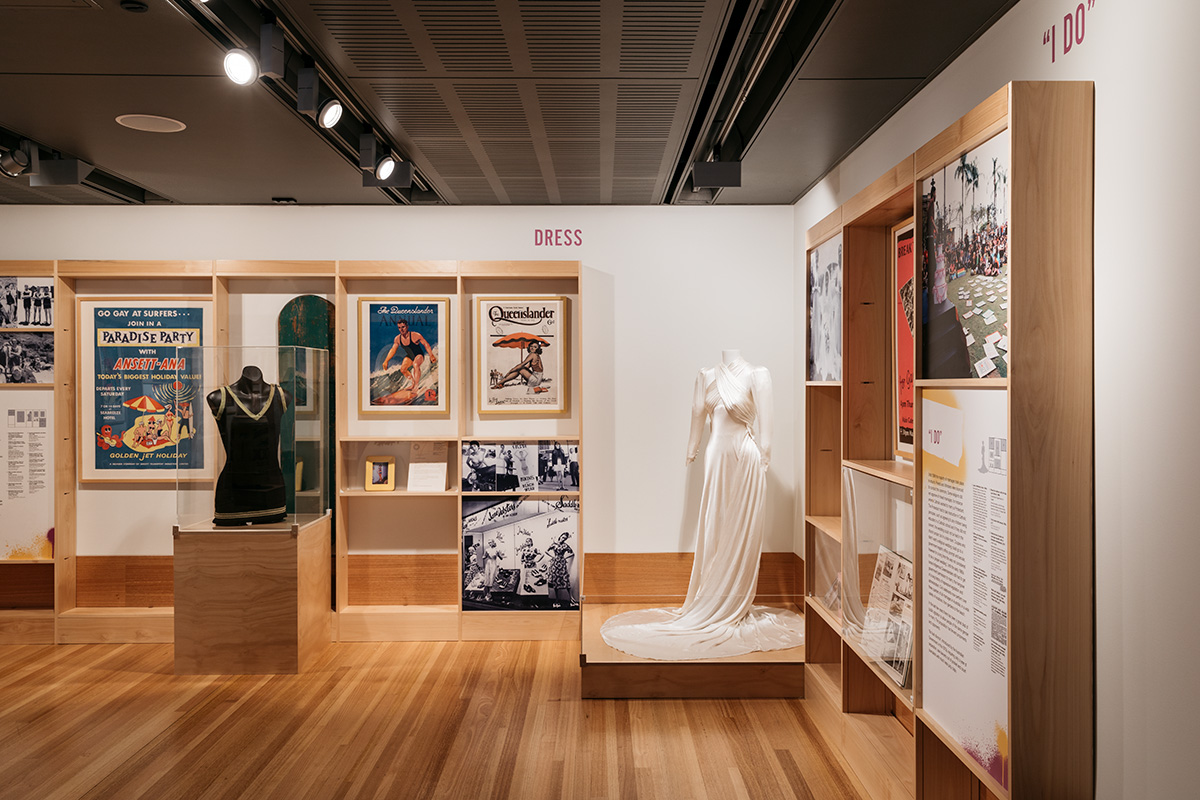 From drinking, smoking and gambling to voting, marrying and travelling — and everything in between — what are the freedoms that Queenslanders take for granted?
Freedom Then, Freedom Now is an intriguing journey into our recent past exploring the freedoms enjoyed and restricted in Queensland and examines what happens when collective good intersects with individual rights. Freedoms often depend on age, racial or religious background, gender, income and where you live. Freedoms change over time and with public opinion.
This exhibition draws on the extensive collections of SLQ to reminisce, reflect on and explore freedoms lost and won in Queensland.
Installation Images: Freedom Then Freedom Now, photographs by Josef Ruckli for State Library Queensland
What's up Sunshine? is a pictorial portrait of Noosa and the region over the last 50 years. Presenting over 400 photographs and memorabilia the exhibition reveals the many stories of the people and events that have shaped the culture and character of the region.
The exhibition features photographs and video from by leading local and Queensland artists including Glen O'Malley, Mal Sutherland, Judy Barrass, Emma Freeman, Brian Rogers, Bianca Beetson, James Muller, Larisa Salton, Lin Martin, Raoul Slater, Blair McNamara and Andy Staley.
It also features many images from the Picture Noosa collection by press photographers Bill Griffiths and Ian Murray.
In 2006, ten of the Glass House Mountains peaks were included in the National Heritage List.
For more than 40,000 years these mountains have never been far from the gaze of local people. From across the Pumicestone Passage on Bribie Island or the mainland of the Morton Bay region the mountains stand in jagged relief along the horizon, offering an ever changing panorama.
This exhibition commemorates the ten year anniversary of the heritage listing through historic and contemporary visual art, photographs, documents and oral histories.
Image: Lawrence Daws, Owl Creek II 1982, Oil on Board, USC Collection